About Blue-Gear
Our Goal
To develop hearing products that will incorporate unique features related to styling, safety, reliability and coupling to the ear.
The Problem
The hearing health care and consumer electronic markets have long pursued without success a viable, single-physical-size earpiece/earmold!
Poorly-fitting earpieces is one of the main causes for a large percentage of hearing aids/instruments and consumer electronic products being returned or not being used.
Even a slight "pressure point" can produce a very uncomfortable, irritating sensation after only a short time of product use.
Our Solution
Blue-Gear has designed a universal fitting earpiece that meets all of the earmold requirements for the consumer. Our patent pending consists of multiple claims across multiple industries for use in many products.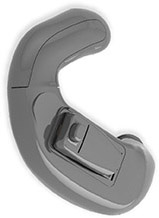 There is no earmold on the market like it!
Easy to use.
Stays in place when active/exercising.
Use as either open fit or closed with silicone tips.
Easy to handle when placing or removing from ear.
This new and unique earpiece design was developed over many years of data gathering and testing.
Fits over 90% of users comfortably over extended periods of use.
Fits in the ears concha bowl but does not invade the ear canal and does not extend to the extremity of the ear lobe.
Decades of Experience in Better Hearing
Hearing aid company ownership and management.
Hearing instrument sales.
Hearing science design and test experience.
Development of extensive contacts with vendors, suppliers and hearing personnel.
Fitting and locating electronic devices around and in the human ear.
Proven track record in hearing instrument development and innovation with 22 U.S. patents.
Time magazine, named a Bluetooth product we developed as one of the "Inventions of The Year" in 2005.